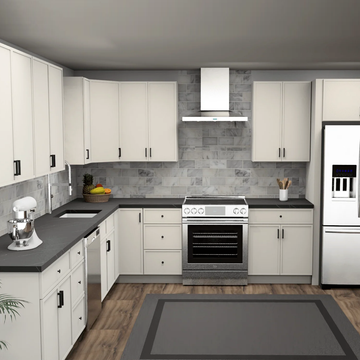 Popular Kitchen Sets
The L-shaped kitchen design stands out as one of the most popular choices, characterized by its two adjoining counters forming a right angle in the kitchen corner.
When well-executed, it offers an efficient work triangle, making meal preparation, cooking, and cleanup a breeze.
Its layout promotes a smooth workflow and accommodates multiple cooks while ensuring seamless traffic flow through the kitchen. If you're considering a kitchen layout for a renovation or custom home, the L-shaped design can be an excellent choice to enhance your cooking and living space.
The 10x10 L-Shaped Kitchen configuration enjoys widespread popularity for estimating kitchen cabinet costs across various retail stores and brands. In addition to our 10x10 sizing, we provide a range of alternatives that encompass approximately 80% of kitchen layouts commonly found throughout the United States.
×
Size
Waist 
Hip 
cm
in
cm
in
XS
69.5-74.5
176.53-189.23
83.5-88.5
212.09-224.79
S
74.5-79.5
189.23-201.93
88.5-93.5
224.79-237.49
M
79.5-85
189.23-201.93
93.5-98.5
237.49-250.19
L
85-91
215.9-231.14
98.5-103.5
250.19-262.89
XL
91-97
231.14-246.38
103.5-108.5
275.59-288.29
XXL
97-103
246.38-261.62
108.5-113.5
275.59-288.29
Estimated Delivery:Dec 09 - Dec 13

Free Shipping: On orders over $2,500