Fabuwood Allure Luna Kona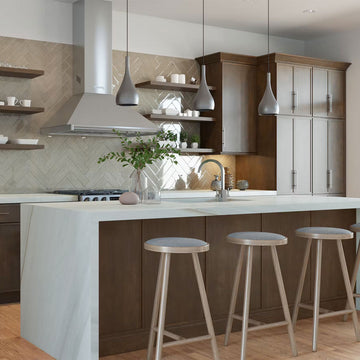 Fabuwood Allure Luna Kona
Our stained Kona finish accentuates each cabinet's unique wood grain in a beautiful shade of walnut brown.
Door
Full overlay door with mortise and tenon construction

Solid wood door frames with ⅝" MDF center panel

All Allure door styles come standard with Blum Compact Clip Concealed Hinges and feature Quick-Release Technology with Blumotion Soft-close

Hinges are six-way adjustable and open at 110°

Please note: Lazy Susan, Easy Reach, and Pie Cut cabinets do not feature the soft-close mechanism
Drawer
5-piece recessed panel drawer fronts

⅝" solid wood drawer box with dovetail construction

Tandem plus Blumotion full extension concealed drawer runners
Box
Dovetail construction

½" select solid wood construction

¾" adjustable shelves edge-banded in wood veneer natural finish

The base cabinet has 18" deep shelves
Size
Waist 
Hip 
cm
in
cm
in
XS
69.5-74.5
176.53-189.23
83.5-88.5
212.09-224.79
S
74.5-79.5
189.23-201.93
88.5-93.5
224.79-237.49
M
79.5-85
189.23-201.93
93.5-98.5
237.49-250.19
L
85-91
215.9-231.14
98.5-103.5
250.19-262.89
XL
91-97
231.14-246.38
103.5-108.5
275.59-288.29
XXL
97-103
246.38-261.62
108.5-113.5
275.59-288.29
Fabuwood
Fabuwood Cabinets is a leading manufacturer of high-quality cabinetry for homes and businesses. The company is known for its commitment to quality, attention to detail, and exceptional customer service. With a wide range of styles, colors, and materials to choose from, Fabuwood Cabinets has become a popular choice for homeowners, contractors, and designers alike.

Fabuwood Cabinets was founded in 2009 with a mission to provide high-quality cabinetry at an affordable price. Since then, the company has grown to become one of the most trusted names in the industry. Fabuwood Cabinets is dedicated to providing its customers with exceptional products and service, and it shows in every aspect of their business.

One of the things that sets Fabuwood Cabinets apart from its competitors is its commitment to quality. The company uses only the highest-quality materials in the construction of its cabinets, ensuring that they are both beautiful and durable. From solid wood to engineered materials, every component of a Fabuwood cabinet is carefully selected to ensure that it meets the company's high standards.

Fabuwood Cabinets offers a wide range of styles to choose from, including traditional, modern, and transitional designs. Whether you're looking for a classic look or something more contemporary, Fabuwood has a style that will suit your taste. Their cabinets are available in a variety of colors, from classic white to bold, bright hues, so you can customize your cabinets to match your home's décor.

In addition to their beautiful designs, Fabuwood Cabinets is also known for its exceptional customer service. The company's representatives are knowledgeable and helpful, and they are always happy to answer any questions you may have about their products. They also offer a variety of resources to help you make the right decisions for your home, including design tools and installation guides.

Fabuwood Cabinets is also committed to sustainability. The company sources its materials responsibly, ensuring that they come from environmentally responsible sources. They also take steps to minimize waste and reduce their environmental impact in every aspect of their business. By choosing Fabuwood Cabinets for your home, you can feel good knowing that you're making a responsible choice for both your home and the environment.

Overall, Fabuwood Cabinets is a top choice for anyone looking for high-quality cabinetry at an affordable price. With a wide range of styles, colors, and materials to choose from, exceptional customer service, and a commitment to sustainability, it's easy to see why so many people choose Fabuwood for their home. Whether you're renovating your kitchen, building a new home, or simply looking for a way to update your space, Fabuwood Cabinets has everything you need to create the perfect look for your home.